Have you thought why you don't hear back from employers, even though you had the skill set they are looking for?
It might be because of several factors, but more importantly it might be because you haven't been able to understand the hiring dynamics of the modern workplace. To help you stand out, we have compiled 3 important scenarios for you to consider during your job search:
Competition
During your job search, competition can be fierce and you need to get noticed and in today's internet age. For you to do that, you will need a lot more than having the basic qualifications.
According to Glassdoor, there are 250 applicants sent to job applications and only 1 person gets selected for the position: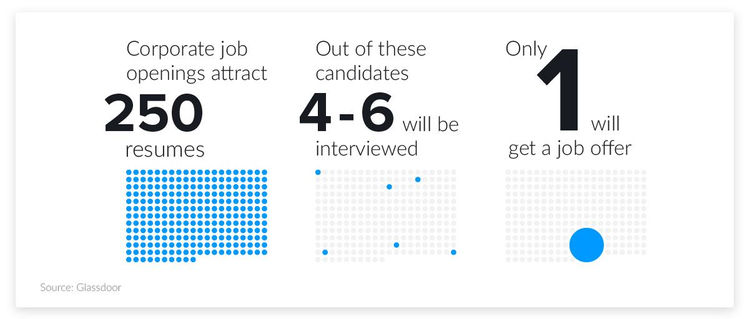 So, if you want to get hired for a job you love, preparation is key. You should spend at least an hour a day to learn everything you can about the job you are applying for and interested in pursuing.
No Cover Letter Presented with your Resume
Always remember, a resume and a cover letter are both important when applying for every job that requires one. It is because you don't want to lose the opportunity to someone who presented a cover letter during the application process.

By submitting a high-impact resume, and a cover letter that shows how your skills and expertise correlates to the job you are interested in applying for and this will set you apart to get called for an interview. Always value quality over quantity, because you only need to get selected for one job.
Talk to an Expert
For better results, talk to a professional to help you position your skills, by understanding the job requirements. We can recreate your experience with the correct keywords, in the correct format so the Applicant Tracking Systems (ATS) can select you as a potential candidate qualified for an interview.